New Rules: New Opportunities for People to Power Communities
If there was ever a national holiday for equitable and inclusive financing, it could be today!

Imagine what we could achieve if we could fight both climate change and inequality at the same time, by training, financing, and empowering our communities with clean energy and climate resilience.

That day is today.
Before, a neighborhood leader could only raise enough crowdfunding to power a few buildings (like a town hall, school, church, non-profit, or small business).
Now, a neighborhood leader can raise enough to power a whole community!
Up until 2016, only the top 10% or so of Americans were allowed to invest in most private companies. That technically changed with the finalization of crowdfunding rules making it possible for anyone to invest in small businesses and startups. But until today, crowdinvesting platforms like the Raise Green Investor Marketplace were hindered by rules that prevented rapid growth.

Today (March 15, 2021) marks the implementation of favorable new crowdinvesting regulations by the U.S. Securities and Exchange Commission (SEC). Five years after their inception, crowdfunding regulations have finally aligned with innovative potential, making it easier for anyone to raise capital and invest in impactful community-scale companies and climate solutions.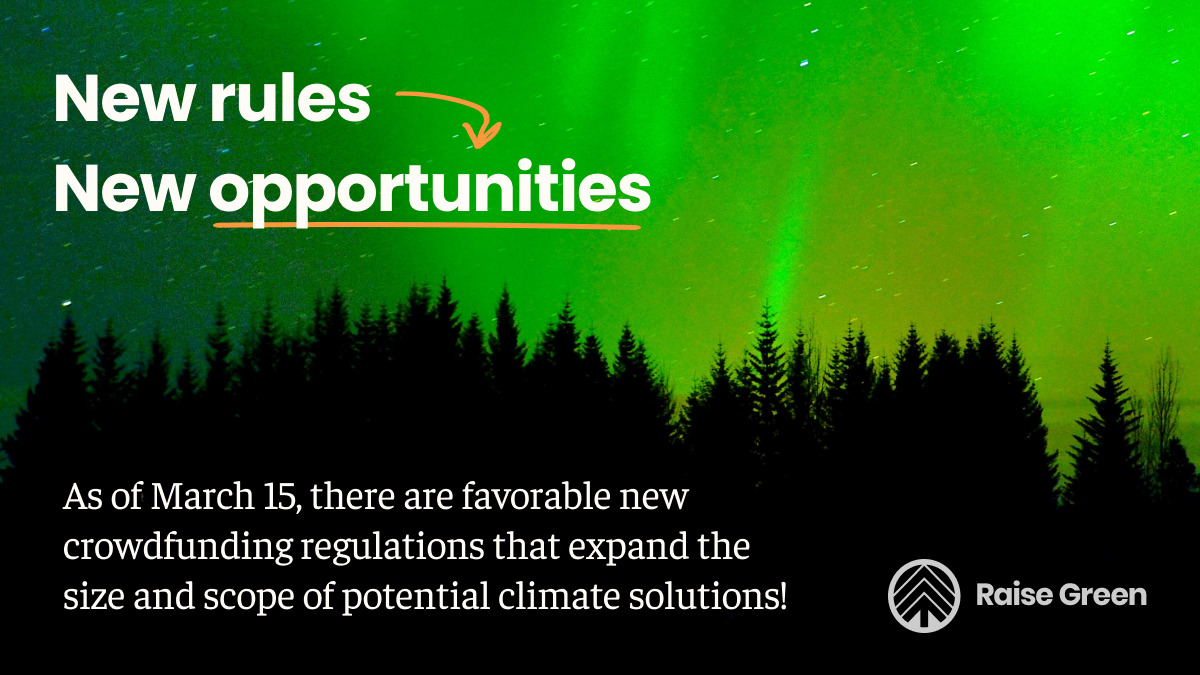 Crowdinvesting, also known as "regulation crowdfunding," represents an opportunity for the 90% of Americans who aren't rich ("non-accredited investors" or "retail investors") to have more of the same types of investment opportunities as the wealthy ("accredited investors"). These retail investors account for upwards of $17 trillion in wealth, but that's only 24% of total U.S. wealth. It also gives clean energy entrepreneurs a way to raise money that never existed before! More than ever, an organized group of dedicated project Originators and impact investors can not only stop the game, now they can change the world.

The new amendments significantly expand the size and scope of Raise Green's capabilities, specifically:

Increased maximum raise limits for offerings
Previously the most that could be raised in a year was $1.07 million. Now crowdinvesting offerings can raise up to $ 5 million per year. This opens the door for bigger projects to benefit from crowdfunding, even small utility-scale projects, microgrids and larger community solar infrastructure. In allowing for more project offerings or larger sizes, crowdinvestors simultaneously have more opportunities to choose from! Even better, larger projects can often harness lower cost estimates with economies of scale. This often bolsters their economic efficiency and enhances value creation, all the while increasing clean energy benefits for people and the planet!

Removed investment limits for accredited investors
When signing up for a Raise Green account, non-accredited investors are asked to estimate their net-worth as a means of determining the maximum amount they're allowed to invest in offerings. The new regulation opens up more investment potential, since it weighs net-worth against annual income and uses the greater amount to determine maximums. While still maintaining investor protections, they can now have even more impact!

The amendments remove the limit that accredited investors can put into a project. Clean energy projects can now receive larger investments from institutions and organizations, thereby increasing the feasibility of larger projects hitting their goals. This is a momentous shift towards 'blended capital': a powerful mix of philanthropic investment, donor-advised funds, program-related investment, and traditional private equity and retail impact investors, When all of these different types of investors get the same investment terms in the same offering, that allows for a more equal investment landscape.

Allowance for prospective project issuers to 'test-the-waters'
Up until now, there were strict rules against advertising a regulation crowdfunding offering before it went live. But now project issuers are allowed to communicate with investors beforehand! They can circulate promotional materials and measure the overall level of interest, which is good to know before going through the entire process of preparing an offering. Companies and climate entrepreneurs can present a potential project offering and measure the interest and feedback thereafter. With these amendments, initiating funding for community-level climate solutions will now be appropriately collaborative and transparent!

Permission to use a special purpose Crowdfunding Vehicles (SPVs)
Regulation Crowdfunding issuers can now establish an SPV, an entity whose sole purpose is directly acquiring, holding, and disposing of securities in one or more offerings. This means that now any privately held company can raise capital without adding hundreds or even thousands of individual investors to their capitalization table, thus easing the administrative challenges of conducting a crowdfunding raise. SPVs are often used in project finance to manage risk, and will be an interesting area of financial innovation in the crowdinvesting space. By enabling the use of crowdfunding SPVs, the new rule requires that investors receive the same economic exposure, voting power, legal rights, and the same disclosures as if they invested directly in the company itself. This new option may make it more likely and potentially less risky for companies when they decide how best to offer investment opportunities through crowdfunding.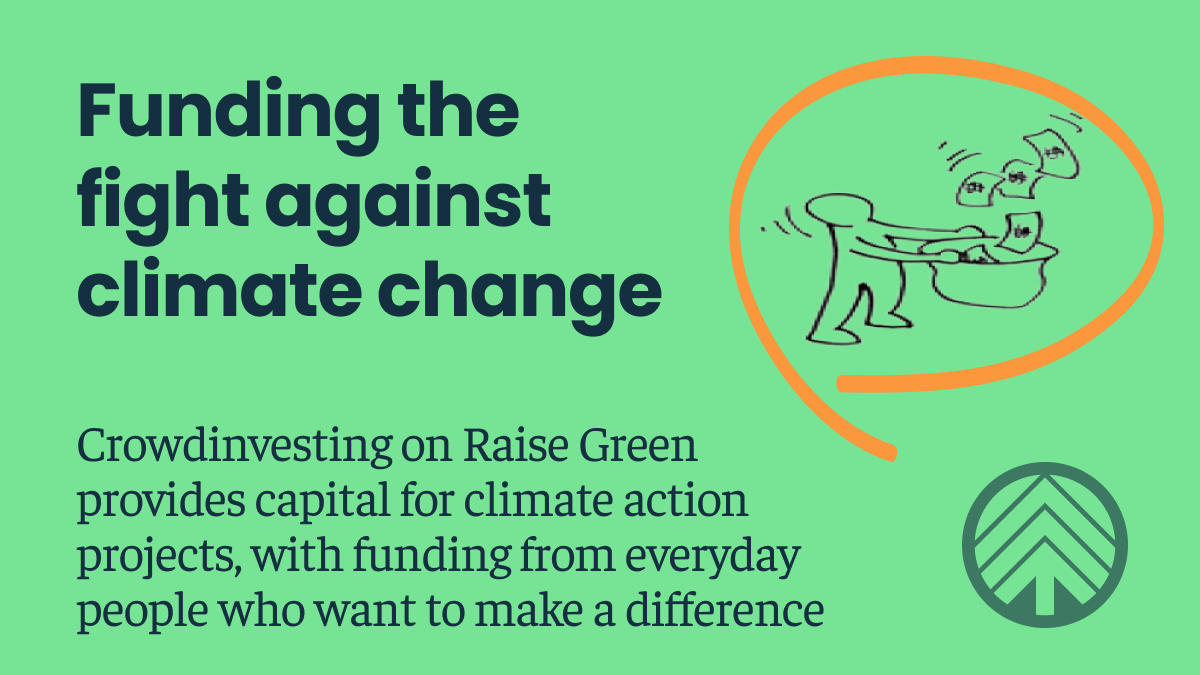 Now is a better time than ever to start your own green job, and Raise Green can support both the development (Originator Engine) and funding (Marketplace). Or if you're interested in investing in an existing project, you can create an investor account for free here.
As always, feel free to send any questions or comments you might have to info@raisegreen.com.
To get the most up-to-date information on Raise Green content, please sign up for our email list and follow any of our social accounts (Instagram, Twitter, Facebook, LinkedIn).
This Blog is for discussion purposes only, expresses the views of Raise Green, and is not investment research. This is not investment or tax advice, and does not constitute a solicitation to sell or an offer to buy any securities. Certain information is from or links are to third party sources. Although they are believed to be reliable, we do not guarantee their accuracy, completeness or fairness. Raise Green is a licensed Funding Portal with the SEC and FINRA, and is not a Municipal Advisor. Prior to being approved to list a company on the Raise Green portal, a diligence review is completed. Prior to investing. investors must sign up for an account on the portal. Raise Green does not provide tax, accounting or legal advice. Investing in crowdfunded offerings involves risk and you should review the risks of a particular investment prior to investing. You are strongly encouraged to consult your professional advisors before investing. Go to www.raisegreen.com for additional information on services, the funding portal, regulation, and investment risks. Or, direct inquiries to info@raisegreen.com. Copyright © 2021